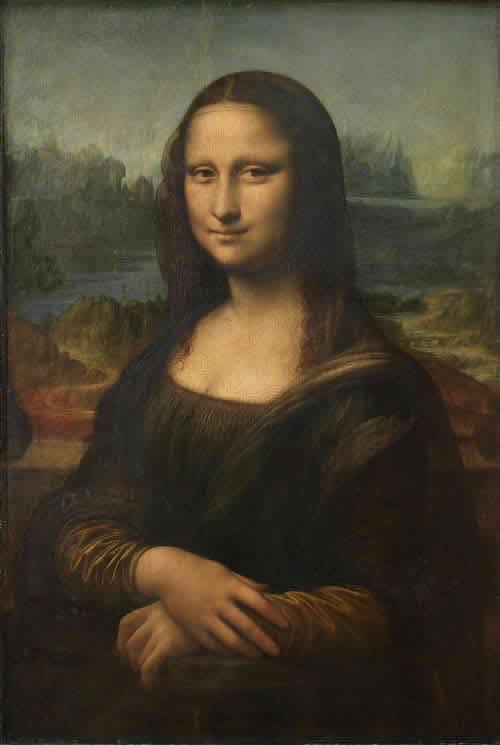 Leonardo da Vinci created "God's-eye" by Mona Lisa.

He thought the essence of the religion as projection of human soul.
He succeeded in creating mirror of soul in this work.
He put out all evidences that let feelings of the portrait character being determined so as to neutralize all features of the portrait character. For instance, expressions of mouth and hands, clothes color, seat angle, sex, and backgrounds.

The expression of this person is everlasting changing. It depends on each appreciator and the mental condition of those that watch this picture. This effect gives this portrait reality. In a word, it is an essence of religion to make human ethics, and to make God that person images in its mind, namely surveillance camera that is invisible, let human hold self-control. 

...
With urbanization, people created artificial spaces in their living area and be able to pursue causal relationship in urban space because Nature is excluded in urban space and Cause is limited to artificial ones in it.


Therefore, along with the Renaissance, humans began to focus on controlling themselves by reason.
In urban space, we, humans come to believe that Cause is human-made because there is only something that makes senses to humans in urban space. So, God's eyes are the eyes of one's own mind monitoring oneself in civilized society, that is reason.

Morihei Ueshiba did not emphasize reason so much because he grew up in countryside in the 19th century: more polytheistic.
Unlike Morihei Ueshiba, Gozo Shioda sees God as a matter of one's own mind because he grew up in Tokyo in the 20th century. So, he is more monotheistic: he focuses on objectivity by reason. 

Leonard expresses his attitude toward God in paintings and Gozo Shiota expressed it in martial arts.
Their attitudes are similar.


レオナルド・ダ・ヴィンチはモナリザによって神の眼を創った

彼は宗教の本質を人間の心の投影だと考えていた
そのために一枚の絵を、鑑賞した人間の「心の鏡」にする試みをした

モデルのモナリザの全ての特徴を中立化するために、性別や感情を特定するあらゆる特徴を取り去った
そしてモナリザの表情そのものも中立点に近づけて、喜怒哀楽すべてを含むように描いた

そのため、観るものにとってモナリザの表情は常に変化し続ける
それは鑑賞者が違えばもちろん、同じ鑑賞者でもその日のコンディションによっても表情は変化する
この効果は、このモナリザが現実に目の前に存在しているかのような実在感を与える

レオナルドはまるで、神は心の中にあるとでも言っているようだ

モナリザの微笑は、監視カメラのようにそれを観る人間の心に迫っていく

ルネサンスの時代に入り人間中心の時代になって、神は個人の理性の問題になっていった

.
.
.
.
ヨーロッパと違い日本の自然は再生能力が強く
自然への強いコントロールが19世紀後半になってからようやく強まっていった

文明化して都市化が進むと都市空間の中では人為的なものが増えていき
都市空間内では意味のあるもの、意識化されたものが増えていく

そのため都市空間では問題の原因は人為的なものに限定されていき

そこに住む人間は因果関係を必ず特定できると信じるようになる

そのような中、ヨーロッパにおいてレオナルドが神への態度を絵画で表現し
そしてそれを武道で実践しようとしたのが塩田剛三ではないだろうか